Trusting Anonymixer's PDF Signing Certificate
We Digitally Sign all PDF versions of Letters of Guarantee using our own Self-Signed Certificate.
It is "Self-Signed" and not rubber stamped by a well known trusted Certificate Authority like GlobalSign, DigiCert, GoDaddy or Verisign because in order to get such a Certificate would require us to submit our own personal details to such a third-party, which is not going to happen.
You have the option to choose to trust Anonymixer's Self-Signed Certificate which Signs PDF documents, in a similar way that you would trust a PGP Public Key to verify Messages signed by it's Private Key.
Once you have Trusted Anonymixer's Certificate, all PDFs created and signed by us will automatically show up as having a correct Digital Signature (provding we actually signed them).
Steps to Trust Anonymixer's PDF Signing Certificate
Once you have created a regular trade, download and open the PDF version of the letter of guarantee.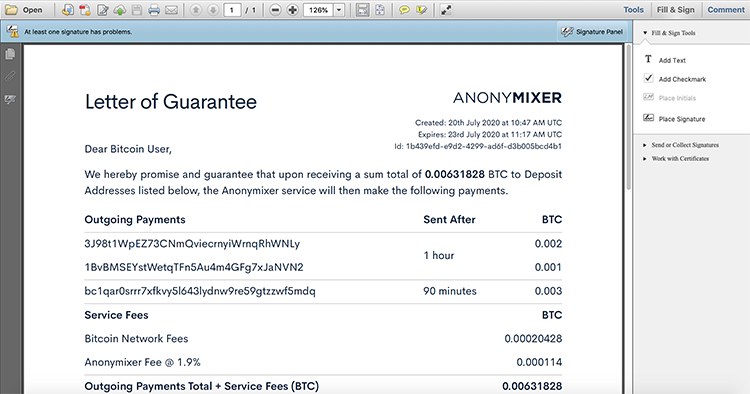 Click the Signature Panel button, (see Figure 2)
Click on "Certificate Details" as shown in Figure 2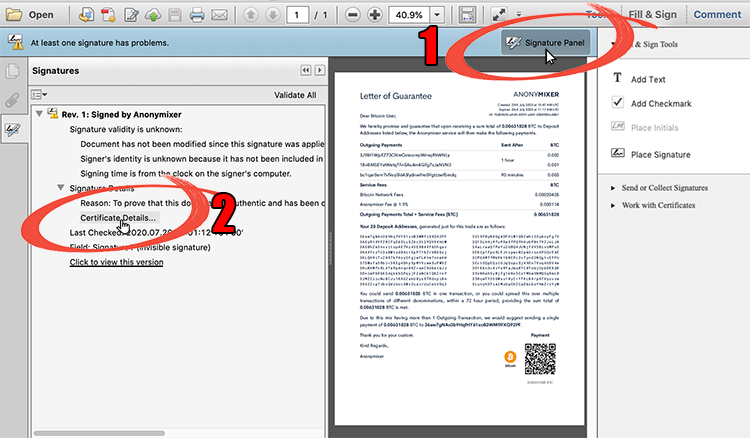 This will open up the "Certifcate Viewer" window.
Click the "Trust" tab
Click the "Add to Trusted Certificates..." button
Press "OK" on the Adobe Security Dialog box as shown in Figure 3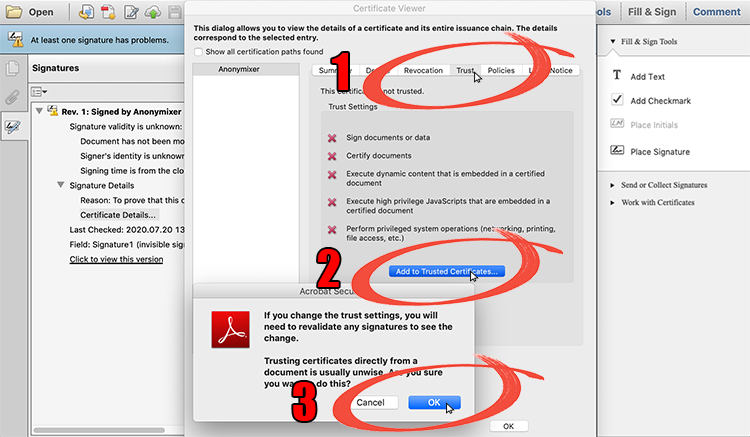 This will bring up the "Import Contact Settings" Window.
Click the "OK" button as shown in Figure 4.
Click the "OK" button, once again in the Certificate Viewer window.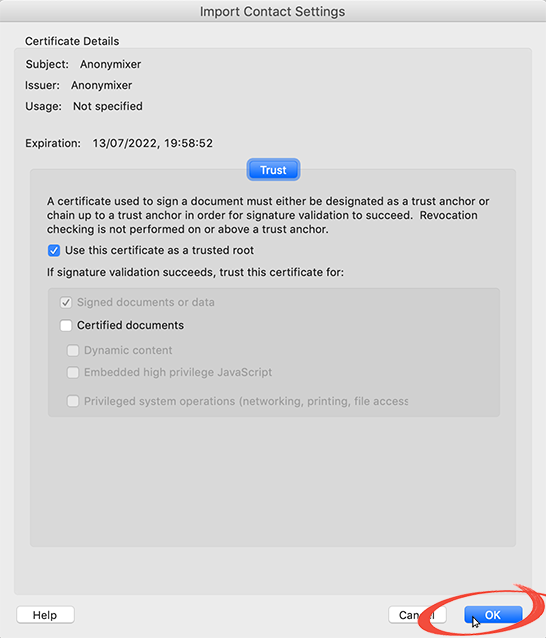 Now if you re-validate the PDF document, or close and re-open the PDF document it will show as having a Valid Signature.
Furthermore, any future PDF created by Anonymixer which includes a digital signature will also be shown to have a Valid Signature.